I am Gluten free… And being in your 20's and gluten free is hard work…
So people don't eat gluten out of choice because they believe it is healthier or better for you, and honestly it makes me mad.
Do you know what I would give to stick my face in a Krispy Kreme right now. I don't see why any one would cut it out of their diet if they didn't need to. Plus a lot of gluten free food has actually got more sugar in it then normal food – to make it taste semi normal.
I was around the age of 15 when I found out I couldn't eat gluten, so I know what normal food tastes like. When I first got diagnosed it was hard. Sometimes I would eat things that I knew would make me ill to see if I was still allergic (trust me I was still allergic).
I remember the first time I went food shopping to buy gluten free food and literally all you could buy was corn flakes and bread, how exciting when your 15 years old and you know what cream cakes taste like…
But I adjusted and now I get so excited when I find new things in the shop that I haven't tried or someone tells me about some a new product I have seen yet, yes I know it's the small things in life.
I now follow so many gluten free bloggers because it make me sort of happy to know that there are other people out there struggling with this too. When I first found out I couldn't eat gluten and wheat any more I didn't know anyone else that was in my shoes, but now thanks to the power of social media I have found so many wonderful people who blog about what they have found from new recipes and bargain's in the supermarket to restaurants and cafes.
The amazing bloggers I follow on Instagram fill me with hope that there are so many wonderful gluten free places I am yet discover. Here are some of the beautiful people I follow… you should check them out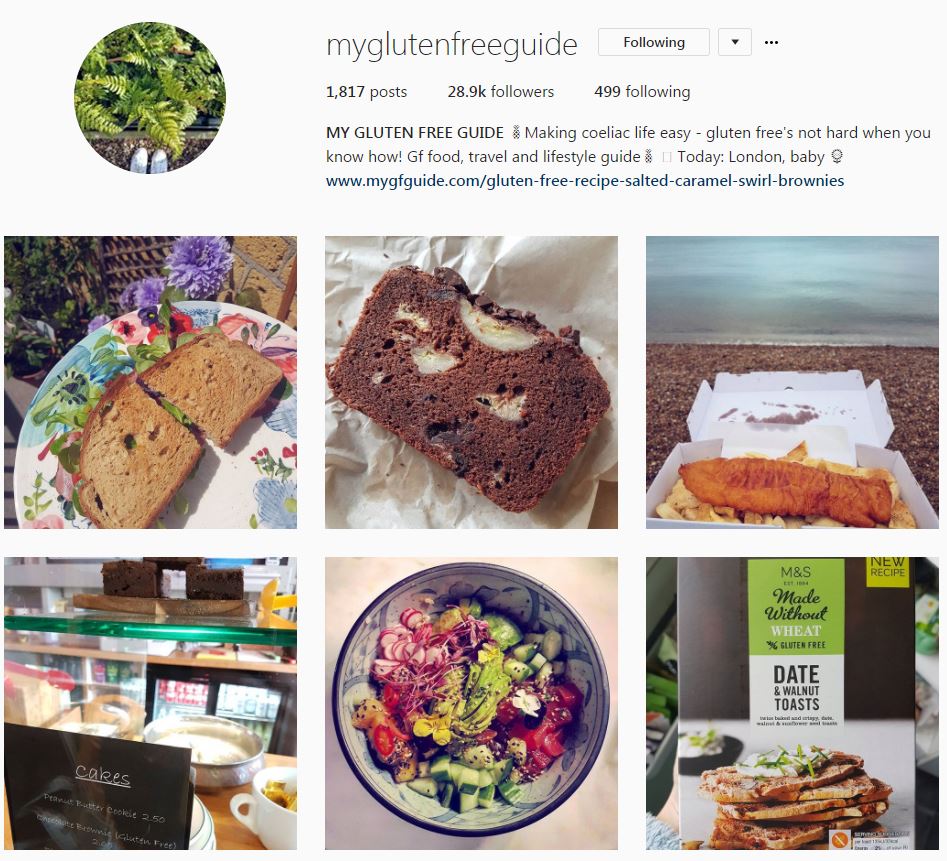 I know there are so many more amazing gluten free bloggers but 3 are just some of my favs!! These are the ones that I truly follow and they have helped me to find some pretty amazing products.
Being coeliac isn't easy all the time trust me.Some of my friends don't understand that I can't eat everything and it takes me 10 years to food shop because I have to read all the labels, but that is life for me. The reaction I get from eating gluten and wheat is awful and I hate it, so I can't be lazy with food!!
Eating out fills me with utter panic… I have a handful of places I know I can eat safety any where else I start to get nervous sweats (this is why I like the blogger, I can see where they recommend). Many chain restaurants are really good and have separate menus but I have found that the little one of pubs and tea rooms are amazing too!!
There is a beautiful little tea room's near me called Elsie's is amazing and they have some many options for gluten free from brunch to full afternoon tea. I go in there so often that the first thing the owner says to me when I walk in is… I will see what gluten free cakes me have today… ohh dear. Also close to me is the Boat House Cafe, they offer they most amazing and moist gluten free cake and when it comes to dinning there, they made me feel so welcome and made the food I wanted gluten free. Eating out is hard because sometimes I feel like a pain, but the Boat House made me so welcome and put me at ease.
When it comes to gluten free shopping in the supermarket I have found so many amazing brands, but my fav has to be schar, all of their products are really amazing and almost taste normal. Schar offer a wide range of product from snack to sauces. Annoying some of their best product are only sold of Europe. Thank god my little sister spends a lot of time on Spain!!
A lot of own brand free from food are amazing as well. All the big brands offer something different, from Sainsbury's with their fresh bread to Tesco with their finest short bread millionaire and Marks and Spencer with their beautiful vanilla cheese cake. So there is always something out there to try.
If you have been diagnosed with coeliac or a gluten intolerance, it is not the end of good food. Free from food is getting better every day and there is always some thing or some where new to try. So don't let it get you down, it just means you get a whole cake to your self.
With love Lauren-Amy
xoxo